Description
WHY THE SUMMER INDOOR OUTDOOR SHOE ? Made of a breathable and durable nylon-mesh with a strong, non-marking injected-molded rubber sole and extra reinforcement around the heel and sides and the new toe cap, make this an unbeatable, strong and comfortable shoe excellent to use when running, hiking or just walking! The Summer Indoor & Outdoor™ shoe protects the dog's paws from blistering on hot pavement or any abrasive surfaces around pool decks and in the water and comforts the dog who suffers from arthritis by offering extra padding and shock absorption. This allows for a safe, comfortable and eventful summer ! They can also be worn in the snow if warmth is not required.
Ideal also for INDOOR use to protect floors and furniture from the dog's nails and to prevent the dog from slipping on tile, ceramic and hardwood surfaces. These shoes will also prevent your dog from over-licking or gnawing its paws, as well as save pool liners and car/boat seats from rips and tears. Used and recommended by veterinarians.
Available only in blue and red in these sizes: XXXS, XXS, XS, XS+, S, S+, M, M+, L, L+, XL, XL+, XXL
Used and recommended by veterinarians and canine physical therapists worldwide.
NEWSFLASH: Neo-Paws™ International, are the designers and manufactures of all the dog shoes shown on this site and its broad range of canine safety gear. Our customers have deemed our shoes "the world's best" and our shoes have become the product of choice for many search and rescue teams including C.E.R.T. (the California Hope Emergency Crisis Response Teams), as well as Guide Dogs for the Blind, Germany's Deutschland Polizeibeamter, the Royal Canadian Mounted Police, Texas Border Patrol, US Border Patrol units, and many others. We keep improving upon the product in order to provide our customers with the best ! We are grateful and proud to be of service to many ! Remember that: AN OUNCE OF PREVENTION IS WORTH A POUND OF CURE ! and believe us OUR SHOES STAY ON !
From one of our customers:
'I ordered one pair of shoes, for my golden retriever. He is suffering with Hip dysplasia, and his back legs were sliding apart on my wood floor. Since he is wearing the boots, his life has changed. He is happy again, he is getting up, and climbing the stairs very easily. Thank you very much'.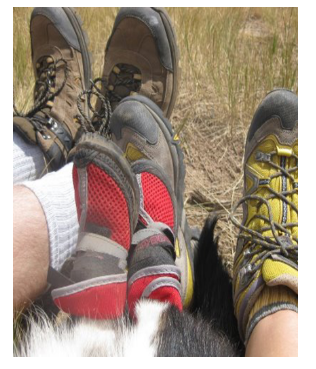 How To Measure 
Please only use our Neo-Paws measuring systems: either the printout or our Neo-Paws app since tracing the dog's paws or using other company's shoes or charts do not work:   
Print out one or both of the paw size charts here below
Measure the diagrams to make sure they printed out as the size stated
Place the dog's paw at a normal stance, (not spread out) on the diagram that you think matches.
The paw should fill the entire black line diagram and the trimmed nails should

go outside

the front line
IMPORTANT:

S

ince your dog's rear paws may be smaller; so please measure them as well.

Don't have a printer? No problem, simply download our free Neo-Paws app on your smartphone or tablet and please follow the instructions or if you are already on your device, simply click on either of these two images that best suits you and they'll take you right to it!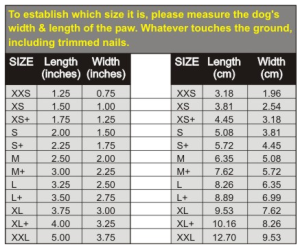 If you are still not sure, please feel free to call or email us and we would be happy to help you figure it out !