Description
"Nature's Moisturizer"Hyaluronic acid is muco-polysaccharide that occurs naturally throughout the animal's body. It is one of the most hydrophilic molecules in nature and can be described as "natures moisturizer". Backed by thousands of clinical trials in the fields of orthopedics and eye surgery, one of hyaluronic acid's most important functions in the body is to lubricate joints as an integral component of synovial fluid. While hyaluronic acid is in the "family" of glycosaminoglycans, it is unique in its restorative ability, and will often provide improvement, where glucosamine and chondroitin have failed to do so.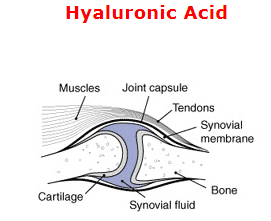 Benefits of Hyaluronic Acid :
Supports joint health and cartilage function.
Reduces joint friction
Increases joint mobility
Provides lubrication and shock absorption for joints.
Helps alleviate pain associated with normal daily exercise & activity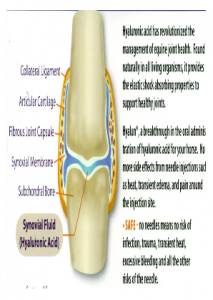 Did you know that 1 out of every 4 pets may need joint health support?
This is unfortunate because your pet cannot tell you when and if they hurt. It can be difficult to know when your pet is having problems. However, we do know that perception is common to both humans and animals, so observing your pet's behavior is the key to recognizing possible discomforts.Nobody knows your pet like you do. You are the most important element when it comes to understanding joint health in your pet. Were they slow to move? Do they tire easily or have difficulty climbing stairs? Are they sensitive to touch and become aggressive?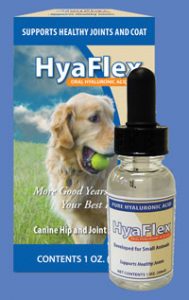 $38.00 approx one month supply for bigger dogs
100% Natural Supports healthy joints and helps alleviate the joint pain associated with normal daily exercise and activity.HyaFlex™ is hyaluronic acid, a special mucopolysaccharide that is found naturally in animals and its function in the body is, amongst other things, to lubricate movable parts , such as joints and muscles.Hyaluronic acid has been known to be effective in supporting healthy joints in horses and humans. Hyaluronic acid maintains proper lubrication, joints are flexible and pets achieve full movement. HyaFlex™ has been helping pets to maintain their quality of life but most importantly, it allows you to regain another member of your active family.
And for the older dogs that are well in their years that can use a higher dosage of Hyaluronic acid, we suggest using the
Hyalun® :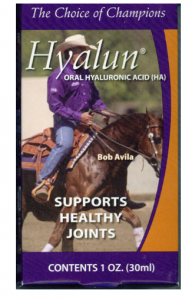 $39.95 one month supply
Hyalun Oral Hyaluronic Acid
Leading the Way with HA
When Hyalun® was first introduced in 2001, Hyalogictm was considered pioneers in the field of oral hyaluronic acid for joint support. Hyaluronic Acid was something most horse owners were familiar with, but only for injections, and taking it orally was very much a new concept. There were many questions at first- Is it absorbed? Does it work?
Well, six years later, we are considered the leaders in the field of oral HA and we still stand alone in offering the highest molecular weight bio-identical HA. The many thousands of satisfied customers are our testament to Hyalun®'s effectiveness, along with the growing field of competitors offering oral HA products. High molecular weight HA is identical to what the body uses for unequaled results.Hyalun® is a patented oral hyaluronic acid solution for horses that is economical, convenient and effective. Owners, Trainers, and Top Riders depend on Hyalun®, shouldn't you?